Sunday Readings
14th SUNDAY IN ORDINARY TIME
FIRST READING
Isaiah 66:10-14
RESPONSORIAL PSALM
Psalm 65(66):1-7,16,20
Let all the earth cry out to God with joy.
SECOND READING
Galatians 6:14-18
GOSPEL
Luke 10:1-12,17-20
---
DAY BY DAY
MONDAY - 27th June
12.00 Noon Angelus
TUESDAY - 28th June
9.30am Mass Mudgee
12.00 Noon Angelus
WEDNESDAY - 29th June
10.00am St Mary's Craft and Friendship Group
12.00 Noon Angelus
12.15pm St Matthews Full School Mass
5.45pm Mass Mudgee - First Holy Communion Parent Meeting
THURSDAY - 30th June
12.00 Noon Angelus
5.45pm Mass Mudgee - First Holy Communion Parent Meeting
FRIDAY - 1st July
10.30am Opal Nursing Home Mass
12.00 Noon Angelus and Rosary (Front of Church)
12.00 Noon Reconciliation (Back of Church)
12.30pm Mass Mudgee - First Holy Communion Parent Meeting
5.30pm Holy Hour
SATURDAY - 2nd July
11.00am Baptism
4.15pm Reconciliation
5.00pm Vigil Mass Mudgee
SUNDAY - 3rd July
THE FOURTEENTH SUNDAY IN ORDINARY TIME
9.00am Mass - Mudgee
10.30am Mass - Gulgong
11.00am Mass - Rylstone
ANOINTING / HOME COMMUNION:
If you know of anyone who would like Anointing/ Home Communion, please ring the office. Fr Owen and Fr Thao are available, and can visit at home or in hospital.
---


---
#UKRAINE
Vatican Ukraine News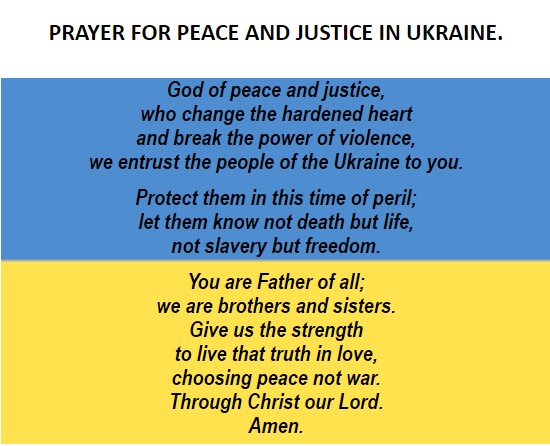 ---

---
PARISH MINISTRIES
Offertary Processing and Altar Serving are back to all parishes and Children's Liturgy is back to St Mary's Mudgee. If you would like to assist with these ministries, please call the Parish office on 6372 2122.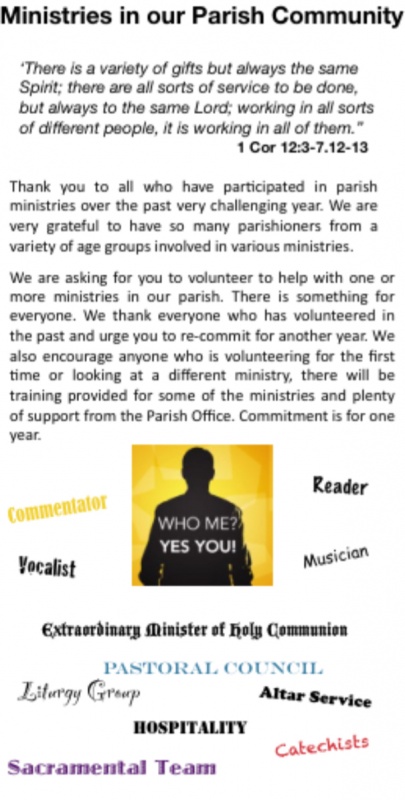 ---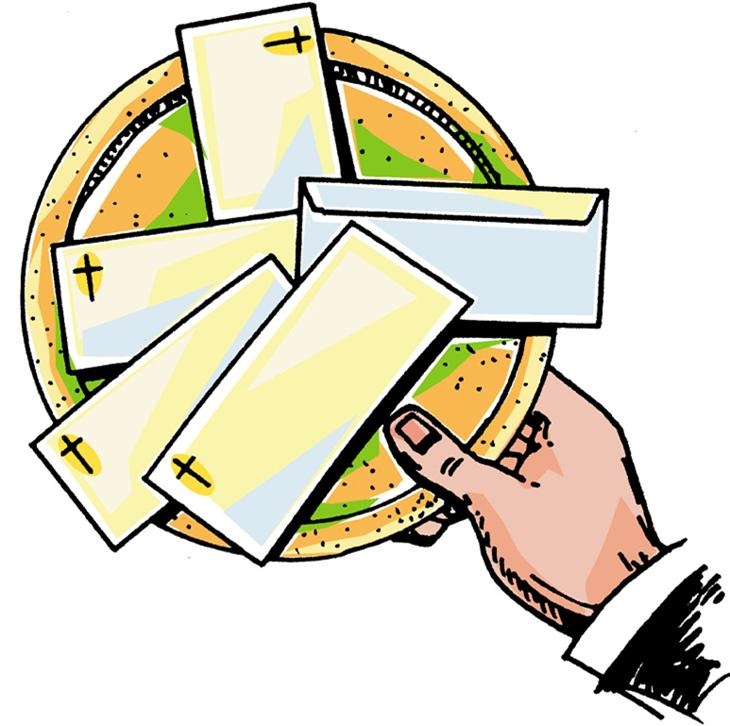 Planned Giving
As we approach the end on another financial year, we express our sincere gratitude to all parishioners who have supported our parish financially over this past year. Without your financial support for our parish we cannot continue to do what we are called by God to do - look after the pastoral life and outreach of our parish which is our most important ministry. Thank you very much. To do this we must also pay the everyday running costs of electricity, rates, salaries, insurance etc. and attend to the maintenance of our heritage and other buildings for future generations.
There are different ways of contributing, sets of Planned Giving envelopes are available whereby you place your weekly donation or increasingly, many parishioners now give their weekly donation electronically via either direct debit through their bank account or direct charge on their credit card.
Over the next few weeks, we ask that all parishioners to fill out a New Giving Card, even if you are already in the programme. This will ensure that our records are correct and give everyone a chance to change they're planning giving options. Thank you to all who are financially supporting our lovely parish.
---
Parish News
MUDGEE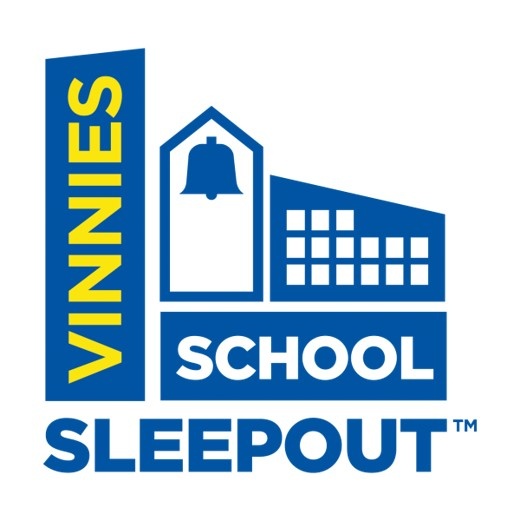 St Matthews will be holding a Vinnies School Sleepout on Thursday 30th June to provide students with a deeper understanding of homelessness, raise awareness of the realities faced by people experiencing homelessness and raise funds to support Vinnies homeless services in the local community. You can help support this initiative by donating online using the link below. Donations over $2 are tax deductible and can be processed online.
https://my.fundraise.vinniesnsw
.org.au/vinnies-school-sleepouts/
st-matts-mudgee-sleepout
Another way for parishioners to help is for any business owners, who would usually be disposing of large cardboard boxes, could donate them to the school. We need a lot of cardboard boxes for students to use as mattresses and shelter during the night.
---
JOSEPHITE MEETING
Friday 1st July after the 12.30pm Mass, at 1.15pm. The meeting will be held in the Parish Hall.
---
NEW PARISHIONERS WELCOME FUNCTION
Friday 22nd July 2022 at 6.00pm
Are you new to the Parish over the last 2 years?
Fr Owen, Fr Thao and the Parish Council extend a warm invitation to a Welcome to the Parish Function.
If your interested then please call the Parish Office on 02 6372 2122.
---
BELL RINGERS NEEDED
St Marys Mudgee need Bell Ringers to help with ringing the bells for the Angelus each day at noon. Training will be provided. If you are available to help, please contact the Parish Office on 02 6372 2122.
---
GULGONG
Thank You!
The GCWG would like to say thank you to all those who braved the cold wind to support our stall at the Henry Lawson Festival. A special thanks to Tex, for helping with transport of the items for the stall.
---
RCIA PROGRAMME
Rite of Christian Iniation for Adults (RCIA) is a process of Christian formation offered to those who seek to become Catholic.
The iniation of new members is a gradual process allowing enquirers time to grow in faith and become full participants of the Catholic community.
If you or know of someone who is interested in the RCIA Programme, please contact the Parish Office on 6372 2122 or email (remove XX) office.mudgee XX @cdob XX .org.au
The RCIA Programme will be starting next week.
---
Safe Church Awareness Workshop
Safe Church Workshops are informative, engaging and interactive and are designed to raise everyone's understanding and awareness of Christian foundations of safe ministry, duty of care, vulnerable people protection (abuse prevention), due diligence in recruiting and supervising church leaders, and risk management. This program is for everyone who participates in a ministry in our Parishes. The accreditation is for three years. Our next workshop will be held in Mudgee towards the end of July.
Safe Church Workshops Accreditation is only valid for three years. Anyone who did the course in 2019 are now due to renew their accreditation this year.
Please contact the Parish office 6372 2122 to register.
---
Fr Rob Galea
Praise and Worship
All Welcome
Tuesday, 26th July 2022, Bathurst 9.30am - 1.00pm
Bathurst Memorial Entertainment Centre (BMEC)
Wednesday, 27th July 2022, Orange
Orange Function Centre - Orange 9.30am - 1.00pm
Friday, 29th July 2022, Dubbo 9.30am - 1.00pm
St Johns College Hall - Dubbo
---

IN THE FOOTSTEPS OF
MARY MACKILLOP
An Australia Pilgrimage lead by a Sister of Saint Joseph & the inaugural Director of the Mary MacKillop Heritage Centre Melbourne.
18 October - 29 October 2022: Brochure available at the Parish Office.
For an application form or further information telephone Annie Bond rsj 02 8912 4818.
Applications close 1st September 2022. Pilgrims must be vaccinated.
---

ST MARY'S MUDGEE PASTORAL COUNCIL

Do you have a desire to be of service to our parish community? Are you interested in the welfare of all parishioners? Are you an active member of our Parish? Are you willing to help our parish to grow?
Come and join our Pastoral Council
We are looking for enthusiastic parishioners who are keen to promote the Church's mission to live and communicate the love and values of Christ in the world.
If you or someone you know are interested in the Parish Council, please contact the Parish Office on 02 6372 2122 or email: (remove XX) office.mudgee XX @cdob XX .org.au
'Christ's faithful, engaged in pastoral care in the parish, give their help in fostering pastoral action' Can. 536.1
---
SAVE THE DATE
Sesquicentenary Mass and Celebration
The Sisters of Saint Joseph of the Sacred Heart extend a warm invitation to attend the Sesquicentenary Mass celebrating the arrival of the Sisters in NSW from Adelaide. The Mass will be celebrated on Saturday 16 July 2022 (exactly 150 years) at 10.30 am in the Cathedral of St Michael and St John Bathurst.
Celebrant: Bishop Michael McKenna.
Following the Mass there will be refreshments in the Cathedral Hall. Everyone is very welcome – Priests, Parishioners, Friends, Companions and all those with a connection to the Sisters of Saint Joseph.
The Perthville Heritage Centre will be open for visitors from 2 pm. Details for RSVP will follow – needed for catering purposes.
---
Parish News
---

---
Confirmation 2022 News
Last weekend and during the week, our Confirmation candidates attended their first workshop with their parents. At the workshop, the parents were asked about their Confirmation and talked to their children about their experiences. Our Candidates also decorated their sash that they will be wearing for their Confirmation.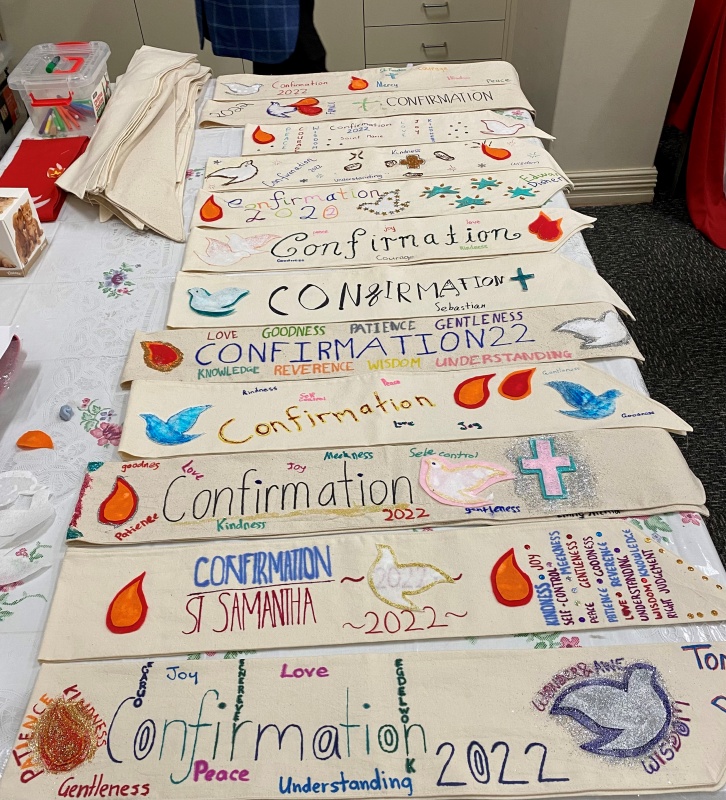 ---
Parish Community Prayer for the Confirmation Candidates
We pray for the young children in our parish community as they prepare to receive the Sacrament of Confirmation.
Help us to show witness and example to them as they learn more about you and our church through our community.

Amen
---
---

POPE'S INTENTIONS FOR JUNE
Families
We pray for Christian families around the world; may they embody and experience unconditional love and advance in holiness in their lives.

---
---
JUNE
The month of June is dedicated to The Sacred Heart of Jesus.
The beginning of the June falls within the liturgical season of Easter, which is represented by the liturgical color white — the color of light, a symbol of joy, purity and innocence (absolute or restored). The remainder of the month falls within the liturgical season of Ordinary Time, which is represented by the liturgical color green. This symbol of hope is the color of the sprouting seed and arouses in the faithful the hope of reaping the eternal harvest of heaven, especially the hope of a glorious resurrection. It is used in the offices and Masses of Ordinary Time.
---
---
Diocese News
CONGRATULATIONS TO BISHOP MICHAEL MCKENNA

On the anniversary of his Episcopal Ordination
26th June
---
---

---
---
---
---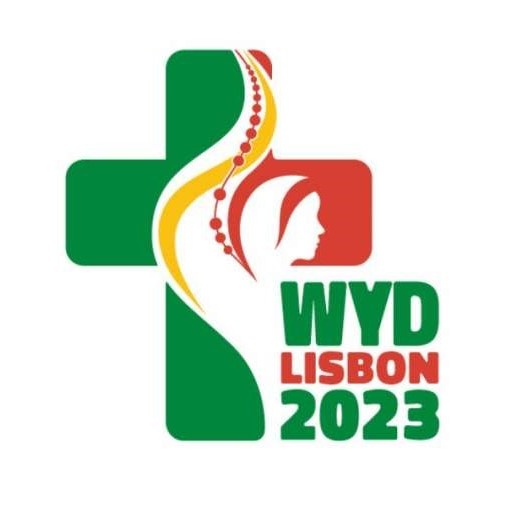 ---
---

Walking in the Spirit
National Prayer Pilgrimage for the Plenary Council
People across the country are invited to participate in a national prayer pilgrimage as the Catholic Church in Australia prepares for the Second Assembly of the 5th Plenary Council of Australia in Sydney from 3-9 July.
We pray for the Holy Spirit's guidance and grace for the Members who will gather and also for ourselves and the Church, that we may have the courage to follow where God is leading us.
Access Walking in the Spirit Prayer Resources HERE.
---
Fifth Plenary Council of Australia
The second – and final – assembly of the Plenary Council will be held in Sydney from July 3-9 and the 30 motions that will be considered during the second assembly (rising from four years of national conversation) have now been published. The Framework for Motions "will form the backbone of our reflection, discussion and decision when we gather", Plenary Council president Archbishop Timothy Costelloe SDB wrote in a message to fellow Members. Access the Framework for Motions document at: https://plenarycouncil.catholic.org.au
---
WE ACKNOWLEDGE THE TRADITIONAL CUSTODIANS OF THE LAND ON WHICH WE LIVE, WORK AND PRAY.
WE WALK ON WIRADJURI COUNTRY. MAY WE CONTINUE TO LOVE AND RESPECT THE LAND AS THEY HAVE.