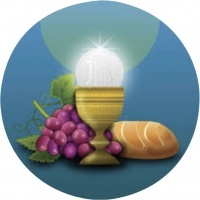 First Eucharist 2023
First Holy Communion (Eucharist) is unique among the sacraments as it is at the heart of our faith. For Catholics, the Eucharist, or Mass, is the most powerful way we encounter the real presence of Jesus Christ.
Our Eucharist program at St Mary's is Parish based, Family centred & School supported. You have the joy of being the first educators of your children in the gift of faith and our Parish offers support to you at this important time in your family's life.
The Sacrament of First Holy Communion will take place during Terms 2 and 3 in 2023. This Sacrament is for candidates that are in Year 3 or older and who have received the Sacraments of Baptism, Reconciliation.
If you are considering the Sacrament of First Holy Communion for your child in 2023, then we would like to extend a warm invitation to you to come along to a Parent/Carer Information Session as part of our preparation requirement for the sacramental journey of your child.
SACRAMENT OF FIRST HOLY COMMUNION
2023 IMPORTANT DATES
Online Booking for Parent/Carer Information Sessions




Monday 1st May 2023 - Monday 19th June 2023

Parent/Carer Information Sessions

(2 opportunities)


Tuesday 20th June 2023 at 5:30pm OR
Thursday 22nd June 2023 at 12:30pm

Online Registration and Payment for the First Holy Communion Journey


Opens: Friday 23rd June 2023
Closes: Friday 11th August 2023

Commitment Masses

(1 required from 6 opportunities)
Saturday 24th June 2023 - Wednesday 5th July 2023

Online Course First Holy Communion Journey




Monday 3rd July 2023 - Friday 18th August 2023

Mass Attendances

(4 required from 21 opportunities)


Saturday 8th July 2023 - Wednesday 23rd August 2023

First Holy Communion Retreat Day

at St Matthews School
Tuesday 22nd August 2023

First Holy Communion with our Parish Priest

(2 First Holy Communion opportunities)


Saturday 26th August 2023 and Sunday 27th August 2023
---
---
---