Readings
Samuel 7:1-5, 8-12, 14, 16
The kingdom of David will be established for ever in the sight of the Lord.
Romans 16:25-27
The mystery kept secret for endless ages is now revealed.
Luke 1:26-38
You will conceive and bear a son.
---

May you have the blessings of the Christmas Season with the love of family and friends around you at this special time.
My sincere thanks to all who have so generously given their time to help with the various ministries in their parish over the past year. I have been grateful for all your assistance.
As we journey to new beginnings in 2015 in our parish and school, may it be an opportunity for growth and renewal in faith. I ask your prayers for Bishop Michael and all the priests of our diocese as we face the challenges before us.
FAITH makes all things possible.
HOPE makes all things work.
LOVE makes all things beautiful.
May you have all three this Christmas.
On behalf of Fr. Antony and the parish team I wish you a very Happy Christmas and Prosperous New Year.
Fr. Garry McKeown PP
FOURTH SUNDAY OF ADVENT
---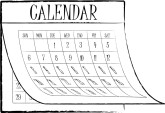 Mudgee
Monday (22/12/2014)
9:00AM: Liturgy of the Word with Holy Communion

Tuesday (23/12/2014)
9:45AM: Church Cleaning & Decorating
4:00PM - 5:00PM: Holy Hour
5:00PM: Mass
Wednesday (24/12/2014)
6:30PM: Children's Mass
9:00PM: Mass
Thursday (25/12/2014)
7:30AM: Mass
9:00AM: Mass
Friday (26/12/2014)
NO MASS OR COMMUNION SERVICE
Saturday (27/12/2014)
5:45PM - 6:15PM: Reconciliation
6:30PM: Vigil Mass
Sunday (28/12/2014)
9:00AM: Mass
Gulgong
Thursday (25/12/2015)
9:00AM: Mass
Sunday (28/12/2014)
10:30AM: Mass
Kandos
Wednesday (24/12/2014)
6:00PM: Mass
Rylstone
Thursday (25/12/2014)
9:00AM: Mass
Sunday (28/12/2014)
6:00PM: Mass