Sunday Readings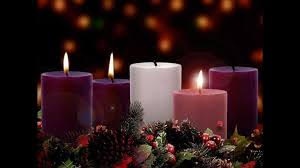 FIRST READING
Isaiah 35:1-6,10
God himself is coming to save you
RESPONSORIAL PSALM
Psalm 145(146):6-10
Lord, come and save us.
SECOND READING
James 5:7-10
Do not lose heart; the Lord's coming will be soon
GOSPEL ACCLAMATION
Isaiah 61:1 (Luke 4:18)
Alleluia, alleluia!
The Spirit of the Lord is upon me;
he sent me to bring Good News to the poor.
Alleluia!
GOSPEL
Matthew 11:2-11
'A greater than John the Baptist has never been seen'
---
DAY BY DAY
MONDAY - 5th December
10.30am Funeral - Mudgee Lawn Cemetery - Douglas Kenney
12.00 Noon Angelus
TUESDAY - 6th December
9.30am Mass Mudgee
11.00am Funeral - Mudgee Lawn Cemetery - Jason McAuliffe
12.00 Noon Angelus
WEDNESDAY - 7th December
St Ambrose, bishop and doctor of the Church
10.00am St Mary's Craft and Friendship Group
12.00 Noon Angelus
5:15pm Reconciliation
5.45pm Mass Mudgee
THURSDAY - 8th December
THE IMMACULATE CONCEPTION OF THE BLESSED VIRGIN MARY
9.00am Rosary
9.30am Mass Mudgee
12.00 Noon Angelus
FRIDAY - 2nd December
10.30am Whiddon Nursing Home Mass
11.30am Exposition of the Blessed Sacrament
12.00 Noon Angelus and Rosary (Front of Church)
12.30pm Mass Mudgee
SATURDAY - 10th December
11.00am Baptism
5.15pm Reconciliation
6.00pm Vigil Mass Mudgee
SUNDAY - 11th December
3RD SUNDAY IN ADVENT - YEAR A
9.00am Mass Mudgee
10.30am Mass Gulgong
11.00am Mass Rylstone6.00pm Word & Faith - Parish Centre, Mudgee (All Welcome)
ANOINTING / HOME COMMUNION
If you know of anyone who would like Anointing/Home Communion, please contact the parish office. Fr Owen and Fr Thao are available, and can visit at home or in hospital.
---
Confession is available anytime on request
---
---
Parish News
MUDGEE
Christmas Mass
Christmas Eve
6.00pm at St Matthews Catholic School, Lewis St, Mudgee
9.00pm St Mary's Catholic Church
Christmas Day
7.30am St Mary's Catholic Church
9.00am St Mary's Catholic Church
---
2023 Calendars Selling Fast...
Mudgee, Gulgong, Kandos and Rylstone 2023 Parish Calendar
Still Available now! $15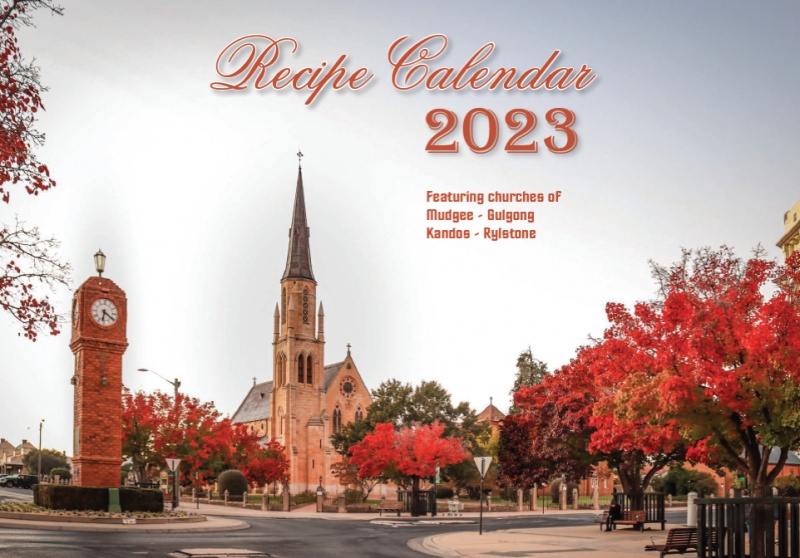 Beautifully illustrated 2023 calendars with some amazing recipes available for sale at $15 each. We still have some available, so please support our parish by purchasing one.
They would be a great Christmas gift for family and friends. They can be purchased after Mass at the back of the church or from the Parish Office during the week.
CHRISTMAS CARDS NOW AVAILABLE DON'T MISS OUT!
---
'Incarnate'Advent & Christmas Daily Reflections 2022
On sale at Mass this weekend and at the Parish Office during the week.
$7.00 each
---
St Mary's Parish
ANNUAL PARISHIONER CHRISTMAS FUNCTION
and
FR THAO'S FAREWELL
5.30PM SUNDAY 11TH DECEMBER 2022
IN THE CHURCH GROUNDS
All parishioners are invited to attend the annual Christmas function on Sunday evening, 11th December as we celebrate and give thanks for all who have contributed to our parish. We have so much to be thankful for. The simplest things all contribute to making our parish a place of welcome - just a smile or hello to someone you didn't know, a visitor or new parishioner. Everyone contributes in some way - ALL are welcome to attend.
This celebration will also be an opportunity to farewell and thank Fr Thao for all the good work he has done over the past year.
As in previous years we invite you to bring a salad/sweet or BBQ chicken to share. The parish will provide the ham/rolls/tea & coffee and drink for the children. Other beverages BYO.
We would be grateful for any assistance to set-up and clean-up. 'Many hands make light work'; this way we all get to enjoy the night.
To assist with catering would you please place your name on the sign up sheets available at the back of the church. Please indicate the number of adults and children attending. Separate sheet for helpers.
---
IMPORTANT - Volunteers Needed
If you are available and would like to help with the Christmas Masses in Mudgee, please put your name on the Mass Volunteer sheet at the back of the church on the Whiteboard.
---
---
Parish News
GULGONG
Street Stall - Hundred Club, raffle & books for sale, outside the IGA on Friday 9th December. Volunteers appreciated.
---
Christmas Mass
Christmas Eve
6.30pm St John the Baptist Church, Gulgong
---
---
KANDOS / RYLSTONE
Christmas Mass
Christmas Day
11.00am St Dominic's Church, Kandos
---
MUDGEE
2022 Mudgee Churches Association
Community Christmas Lunch
12 Noon Christmas Day
at Mudgee Baptist Church
All Welcome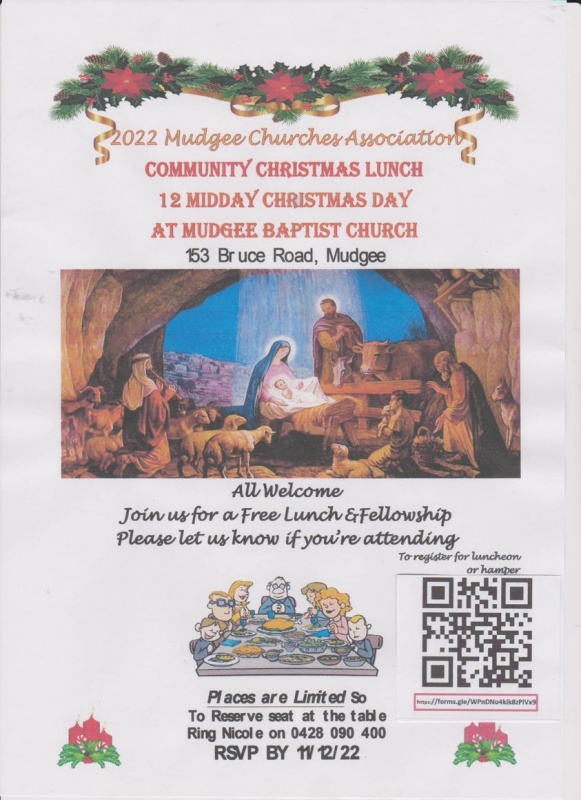 To register for lunch - https://forms.gle/WPnDNu4kik8zPiVx9

Volunteer registration - https://forms.gle/viiVz9MuSPZyRHDs9

or contact the Parish Office 6372 2122
---



POPE'S INTENTIONS FOR
DECEMBER
For volunteer not-for-profit organisations
We pray that volunteer non-profit organisations committed to human development find people dedicated to the common good and ceaselessly seek out new paths to international cooperation.
---
DECEMBER
The first 24 days of December fall during the liturgical season known as of Advent and are represented by the liturgical color purple—a symbol of penance, mortification and the sorrow of a contrite heart. The remaining days of December mark the beginning of the Christmas season. The liturgical color changes to white or gold — a symbol of joy, purity and innocence.
---
---
Diocese News



ADVENT 2022
"Advent" is about what's coming: the future. Sometimes we look forward to it, sometimes we worry about it.
As a Christian, I believe that our only future is the reign of God. And that the way to that future is the one whose birth we celebrate at Christmas.
The way that we can find through, with, and in Jesus will not always be easy; but it leads us through troubles and even through death, to the fulness of life he came into this world to share.
As I encourage you each year, do your best to ignore the jingle bells of the commercialised "season" and look for what we celebrate at Christmas: God among us, who wants to give us life, light and peace.
+Michael McKenna
Bishop of Bathurst
---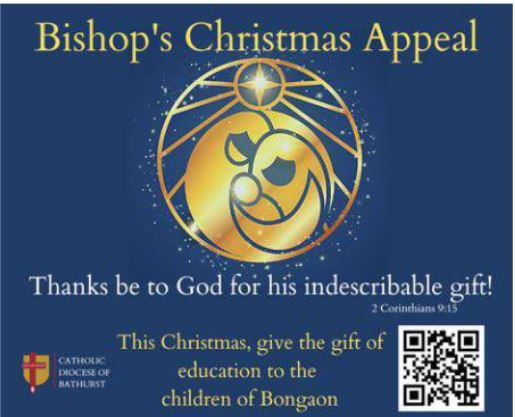 This Christmas, give the gift of education to the children of Bongaon, India.
The proceeds of Bishop McKenna's Special Christmas Missionary Appeal for 2022 will go to the completion of St Joseph's Primary School in Bangaon, St Joseph's Parish, Diocese of Calcuma, West Bengal.
This is the third year that God's people in the Diocese of Bathurst have the opportunity to support this vital mission, giving much needed funds to complete the multi-staged school development, providing education for the children of the Diocese of Calcuma.
In addition to supporting the Appeal at all Christmas Masses in the Diocese, donations can also be made via: Online: www.bathurst.catholic.org.au In Person: At the Bathurst Chancery Office Post: PO Box 246, Bathurst NSW 2795 or any parish office
QR Code: scan the code on the flier to donate
---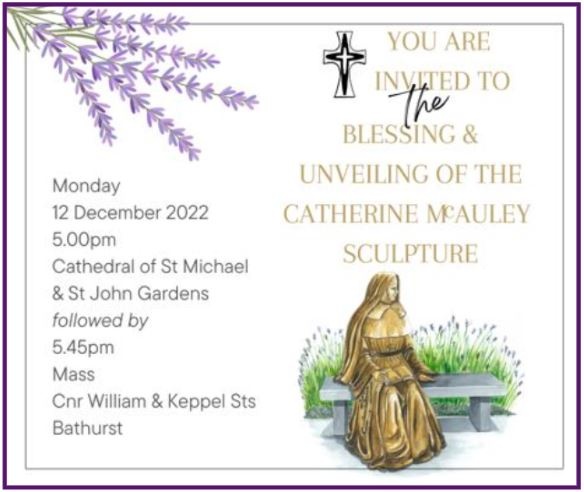 ---
Synod of Bishops
Continental Stage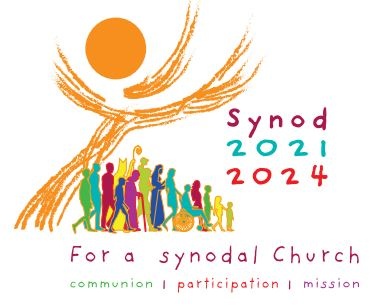 SYNOD OF BISHOPS: The Church around the world has entered the Continental Stage for the Synod of Bishops on Synodality. Groups around the country are praying with and responding to the Document for the Continental Stage, which was published recently. Download prayer resources, including for use in liturgies, read the document and access the submission portal at:
www.catholic.org.au/synodalchurch
---