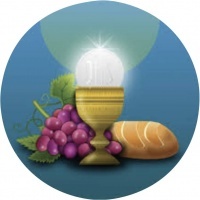 First Eucharist 2022
First Holy Communion (Eucharist) is unique among the sacraments as it is at the heart of our faith. For Catholics, the Eucharist, or Mass, is the most powerful way we encounter the real presence of Jesus Christ.
Our Eucharist program at St Mary's is Parish based, Family centred & School supported. You have the joy of being the first educators of your children in the gift of faith and our Parish offers support to you at this important time in your family's life.
If you are considering First Holy Communion for your child this year and your child has received the Sacrament of Baptism and Reconciliation, we would like to extend a warm invitation to you to come along to a Parent/Carer Commitment, Enrolment and Information Session.
During this gathering, Parents will be invited to make a commitment to their child's faith journey, where details of the program will be presented, enrolment and payment* will be facilitated and the First Eucharist program package given out.
Our 4 parent sessions for the 2022 programme have now been completed.
Anyl further enquires should be made by email to:
---
* A payment of $50 either by cash or direct deposit is part of the enrolment process. This fee covers the cost of maintenance of our beautiful Church which belongs to all parishioners and assists in the administration and hand-out costs of the programme. We ask that you please contact us if the cost of the programme is presenting difficulties. We are here to support you.
If you are paying by cash please place your payment in an envelope with your child's full name clearly marked on the front of the envelope. Thank you.
The direct deposit details are as follows:
BSB: 066781
Acc No: 100004583
Acc Name: St Mary's
Reference: E plus Child's Name (eg. ESaintMary)
---
FIRST HOLY COMMUNION UPDATE #5
Dear Parents/Carers
Some gentle reminders:
- For those of you who have been unable to attend Workshop 1 sessions, the 4th session is being held tomorrow, Tuesday 16th of August at 5:30 pm. Look forward to seeing you there.
- The 2nd workshop date will be held on Saturday/Sunday 10th/11th of September after 5 pm and 9 am masses and Tuesday 13th of September at 5:30 pm, as mentioned in Update 4. This workshop is about "Getting to know your Church" and is for parents/carers and your child. It will be a QR code activity held in the Church. Please bring your iPhone/iPad (or android equivalent) device to the workshop. We will have some available at the Church. There are some children booked in to receive their First Holy Communion on that weekend. Hopefully, you will be able to attend the Tuesday workshop. Please email us if you are unable to attend.
- The First Holy Communion Home Booklet & Inserts program concludes on Wednesday 7th of September to give the office time to prepare the children's journals.
Some information:
For your information, there will be a Retreat Day for the First Holy Communion children held during their school day on Tuesday the 6th of September which is being organised by the school.
Thank you to all who have been posting their photos on the private drive. If you are experiencing difficulties uploading just send your photos to the sacraments email address and we will upload them for you.
We have received some enquiries about the cost. To clarify, the amount is $50. Please contact us via this email address if the enrollment process is causing difficulty. We are here to support you. Thank you.
Wishing you a continued faith-filled journey with your child.

Blessings,

Ruella
On behalf of the Sacramental Team
St Mary of the Presentation Catholic Parish, Mudgee
(remove XX) sacraments.mudgee XX @cdob XX .org.au?subject=First Eucharist Enquiry
---
---